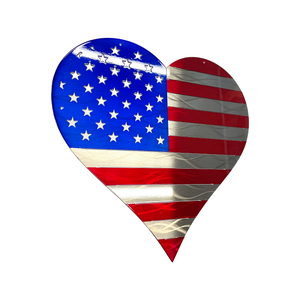 Heart shaped American
American Flag with translucent colors. 
Available in 
-Traditional 
-Thin Blue line
-Thin Red Line
-Thin Green Line
-Thin Yellow Line
.*Recommended for indoor use only
Don't see what you're looking for? Email us at sales@libertymetalanddesign.com
.
.
.
POWDER COATED
Powder coating is Standard at Liberty Metal and Design. 
Quality 
We take pride in our products and are proud when we say, every product is made with 100% American made high quality 16ga steel. Our product is built to last!
Proudly Made in the USA
We mean it when we say "Our patriotic hearts beat red, white, and blue"