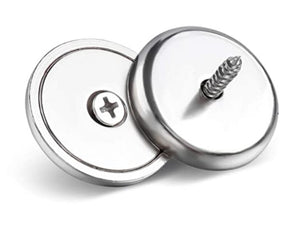 Magnetic Hanging Hardware
These magnets are simple to install and easy to hide behind your sign. All you have to do is screw the magnets into your wall at your desired locations. Place the metal sign on top to cover up any part of the magnet.
The magnets measure 1.26"" in diameter. They are 0.2" thick. The screws measure 1" long. 
How do you know if you need 2 or 4? We have done much testing and suggest that you get 2 magnets for any 11.5" or 23" sign or get 4 magnets for any 24" or larger sign. 
CAUTION: These are very strong high powered magnets. Once these magnets are separated, please do not allow them to come in contact with one another or any metal surfaces as the impact will cause damage to the magnets or the magnetic surface.
---