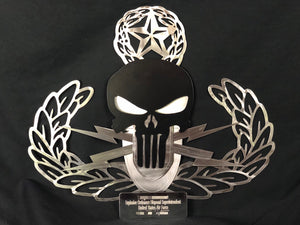 EOD logo with Punisher
Size 24"x20"
After placing order. A member from our team will reach out to you via email for what you will want to have personalized on the plaque. 
.
.
Don't see what your looking for? Email us at libertymetalanddesign@gmail.com
.
.
.
POWDER COATED
Powder coating is Standard at Liberty Metal and Design. Doing so helps prevent items from rusting and is suitable for indoor / outdoor use.
Quality 
We take pride in our products and are proud when we say, every product is made with 100% American made high quality 16ga steel. Our product is built to last!
Proudly Made in the USA
We mean it when we say "Our patriotic hearts beat red, white, and blue"