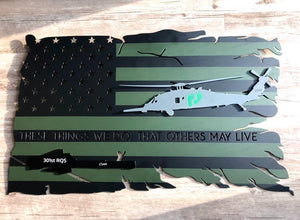 27" x 16.25"
Semi layered-
The flag itself will be in a matte black and OD Green.
The helicopter will be layered on top, it will be colored in a cement like color with a flat finish. The green feet will be applied to the side. 
The mini gun will be a matte/gloss black. With 301st RQS in white. (Will also have engraving line on the barrel)
CSAR will be in white
"These things we do, that others may live" will be cut out. (The same as the stars)
Flag is 100% powder coat. ZERO STICKERS
This flag is made out of strong 16ga American Made Steel. Each flag has a hanging bracket for easy hanging. Powder coated durability. 
 *Recommended for indoor use only
 .
.
Don't see what you're looking for? Email us at Sales@libertymetalanddesign.com
POWDER COATED
Powder coating is Standard at Liberty Metal and Design. Doing so helps prevent items from rusting and is suitable for indoor / outdoor use.
Quality 
We take pride in our products and are proud when we say, every product is made with 100% American made high quality 16ga steel. Our product is built to last!
Proudly Made in the USA
We mean it when we say "Our patriotic hearts beat red, white, and blue"